Existing Home Sales On The Rise
Existing-home sales got a boost in April with reported 7.6 percent increase in units sold, according to a report by the National Association of REALTORS (NAR). A number of factors played into the increase, including low interest rates, increased consumer confidence, and the expiring tax credit. Existing-home sales are on pace to reach 5.77 million units sold for 2010, which is 22 percent higher than the 4.70 million unit pace set one year ago.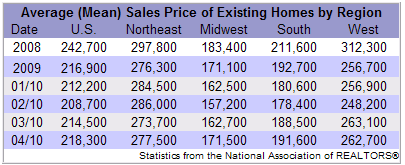 Lawrence Yun, NAR chief economist, expected the increase. "The upswing in April existing-home sales was expected because of the tax credit inducement, and no doubt there will be some temporary fallback in the months immediately after it expires, but other factors also are supporting the market," he said. "For people who were on the sidelines, there's been a return of buyer confidence with stabilizing home prices, an improving economy and mortgage interest rates that remain historically low."
First time buyers accounted for 49 percent of April's market activity, while repeat buyers accounted for 36 percent of transactions; the remaining sales were attributed to investors. All-cash sales held steady at 26 percent, compared to 27 percent the month before.
Distressed home sales were down 2 percent in April, accounting for 33 percent of reported sales. NAR President Vicki Cox Golder explains that buyers are still active, despite the expired tax credit. "It looks like the level of home sales that close in May and June will stay elevated, but many buyers remain in the market even without the tax credit," she said. "Some Realtors tell us they are very busy with clients who are entering the market now as a result of improved conditions, while others are welcoming a slowdown from frantic market conditions in recent months."
Freddie Mac reported 30-year, conventional, fixed rate mortgages were up slightly at 5.10 percent, compared to 4.97 percent in March.
Looking For The Best Mortgage
Shopping around for a home loan or mortgage will help you to get the best financing deal. A mortgage — whether it's a home purchase, a refinancing, or a home equity loan — is a product, just like a car, so the price and terms may be negotiable. You'll want to compare all the costs involved in obtaining a mortgage. Shopping, comparing, and negotiating may save you thousands of dollars.
The US Department of Housing and Urban Development offers a free brochure to help guide you through this process. Download a free copy today, and please contact us for a list of preferred mortgage professionals in our area.
Summer Selling Opportunity
Sellers
, you have an excellent opportunity to sell your home this season, if you have the right pricing strategy in place from the start! Studies show that the longer a property stays on the market, the less the seller will net upon the sale. It is very important to price your property at a competitive market value at the signing of your listing contract. The market is so competitive that even over-pricing by a few thousand dollars could mean that your house will not sell.
An Overpriced Home:
· Minimizes offers
· Lowers agents response
· Limits qualified buyers
· Lowers showings
· Lowers prospects
· Limits financing
· Wastes advertising dollars
· Nets less for the seller
When you are ready, contact me today for a personal market value analysis of your home. No hassles
Tags: for sale magnolia homes, Home Buying, homes for sale in the woodlands, homes for sale the woodlands, Luxury Realtor, Real Estate Agent, spring homes for sale, The Woodlands Community Events, The Woodlands Home Buyers, the woodlands homes, The woodlands real estate agent, the woodlands texas real estateThe Woodlands Real Estate, the woodlands tx homes for sale, woodlands properties
The Woodlands, Uncategorized | Jutta "Utah" Burden |
June 21, 2010 11:46 am